40 Yard Roll Off Dumpster Rentals
Find dumpster services in your area

About Our 40 Yard Containers
Our 40 yard dumpster is our biggest size in most markets and suits a variety of large-scale jobs. Whether you're planning a building demolition or a major home remodel, a 40 yard roll off dumpster is a simple waste management solution for contractors and property owners alike. Give us a call to get a free quote.
Find 40 Yard Prices Near You
40 Yard Dimensions
40 yard dumpster dimensions measure 22 feet long, 7.5 feet wide and 8 feet high. It can hold up to 40 cubic yards of debris in volume, which is about 230-250 33-gallon trash bags.
How Much Does it Cost to Rent a 40 Yard Dumpster?
A 40 yard dumpster averages $584.00, but the exact price can range from $379 to $853 depending on the location and the type of debris that's tossed. Our all-inclusive prices cover delivery, pickup, taxes and a covered weight limit.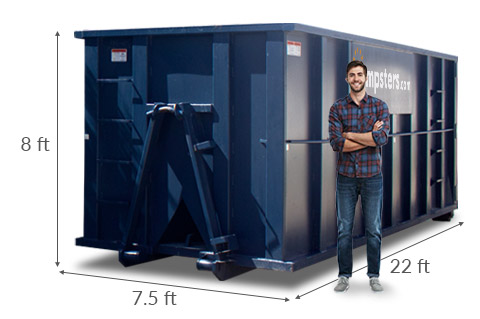 Weight Capacity Included in Our Rate
A 40 yard roll off dumpster can typically hold 5-6 tons, or 10,000-12,000 pounds. Disposal costs for this amount of debris are included in our price. However, the exact weight limit depends on the type of container you're renting and the materials you're tossing.
Is a 40 Cubic Yard Dumpster Right for Your Project?
Remodeling & Construction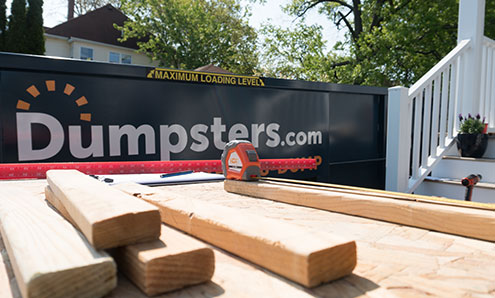 Contractors and DIYers use 40 yard containers to remove debris from remodeling projects like:
Flipping a home.
Tearing down a garage.
Building a home addition.
Renovating a large kitchen or entire floor.
This bin can haul a range of building materials, including:
Plaster & Drywall
Wood
Carpet & Other Flooring
Cabinetry
Countertops
---
Typical Weight Capacity: 5-6 tons
Cleanouts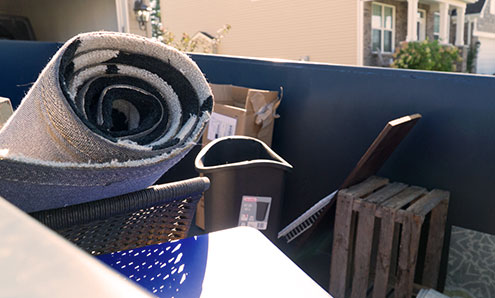 If you're clearing out a property or decluttering for an estate sale, a 40 yard dumpster size is perfect for:
Cleaning out an entire home.
Decluttering attics, basements and garages.
Removing materials from hoarding situations.
This container accepts a variety of items from home cleanouts, including:
Mattresses
Box Springs
General Trash
---
Typical Weight Capacity: 5-6 tons
Please note that weight capacities and accepted items may vary by location.
Ask Our Team About the Right Size for Your Job
How to Plan for Delivery and Pickup
When you rent a 40 yard dumpster, we'll ask you for specific placement instructions so you don't have to be present for delivery or pickup. Keep the following guidelines in mind as you prepare for service.
1. Designate a Drop-Off Area:
Decide on a convenient placement location with one of our helpful team members when you set up your rental.
2. Clear the Spot:
To successfully place a 40 yard roll off dumpster, we'll need about 60 feet of space leading up to the drop off area and 23 feet of overhead clearance.
3. Don't Overload It:
An overflowing dumpster is unsafe for us to haul away and will likely exceed the weight limit, resulting in extra costs. If it's more than 10 tons, we won't be able to remove it.
4. Schedule Bin Removal:
For smooth delivery and pickup, make sure the area surrounding your container won't be blocked by parked cars, locked gates or other obstacles.
How much drywall can you fit in a 40 yard dumpster?
You can fit 144-188 sheets of 4x8-foot standard 1/2-inch drywall in a 40 yard dumpster. Keep in mind that if you're using a different drywall thickness, that range should be adjusted to stay within your covered weight limit.
How high is the side of a 40 yard dumpster?
Our 40 yard dumpsters are 8 feet high. Feel free to throw your debris over the side, but these bins also feature a swinging door to easily load heavy waste. They are also 7.5 feet wide and 22 feet long. Dimensions may vary by location, but it will hold 40 cubic yards of material.
How many tons does a 40 yard dumpster hold?
Our standard weight limit for a 40 yard bin is 5-6 tons or 10,000-12,000 pounds. The allowance in your agreement may vary depending on your debris type and road safety regulations in your area.
What does a 40 yard dumpster look like?
Roll off dumpsters are rectangular in shape with an open top, allowing you to toss light garbage over the walls. They are used for residential and construction projects, while businesses use square, fully-enclosed commercial dumpsters for their trash.