Find the Right Dumpster Rental Size
See trash bin sizes in your area

Trash Dumpster Sizes for Your Needs
We offer a wide range of dumpster sizes for any mess. Get a roll off container to haul debris from one-time projects or order a front load bin for regular garbage collection at your organization. No matter what you're tossing, we have small and large waste containers to fit your trash.
Browse our dumpster size charts below to find the right option.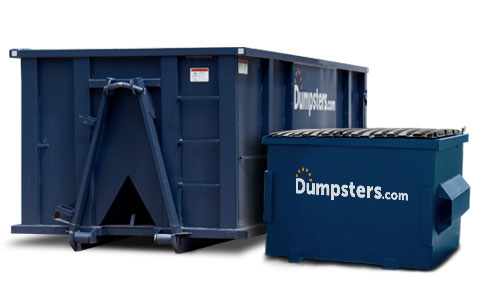 Find Trash Dumpster Sizes Near You
Things to Consider When Choosing a Trash Container Size
What You're Throwing Away
Some materials can only be tossed into a 10 yard dumpster. Tell us about your debris to make sure you rent the right container.
How Much You're Tossing
Estimate how much junk you're throwing out. This will help us decide which size will accommodate your debris.
Delivery Location
Make sure you have enough space for the dumpster. If the bin is too large, you may need a permit for street placement.
Temporary Trash Dumpster Sizes
Compare Garbage Container Dimensions
If you're a homeowner or contractor in need of a temporary waste solution, we'll talk through the details of your project to help you choose one of our roll off dumpster sizes. Need multiple containers but only have room for one? We'll help you plan swap outs for ongoing service to fit your needs.
Standard Temporary Dumpster Sizes
| Container Size | Dimensions | Weight Limit |
| --- | --- | --- |
| 10 Yard Dumpster | 14 ft x 7.5 ft x 3.5 ft | 4,000 – 6,000 pounds |
| 12 Yard Dumpster | 14 ft x 7.5 ft x 4 ft | 4,000-6,000 pounds |
| 15 Yard Dumpster | 16 ft x 7.5 ft x 4.5 ft | 4,000 – 6,000 pounds |
| 20 Yard Dumpster | 22 ft x 7.5 ft x 4.5 ft | 4,000 – 6,000 pounds |
| 30 Yard Dumpster | 22 ft x 7.5 ft x 6 ft | 7,000 – 10,000 pounds |
| 40 Yard Dumpster | 22 ft x 7.5 ft x 8 ft | 10,000 – 12,000 pounds |
*Size options and dimensions vary by market, but volume is consistent. Our most common dumpster sizes are listed above.
Containers for Small Projects
Working through a home cleanout or small-scale DIY remodel? Small dumpster rentals are great for jobs with minimal debris or smaller delivery locations.
Common Projects for 10 Yard Dumpsters:
Garage cleanouts
Heavy debris disposal
Dirt removal from your yard
Common Projects for 20 Yard Dumpsters:
Downsizing before a move
Kitchen or bathroom remodels
Roof tear-offs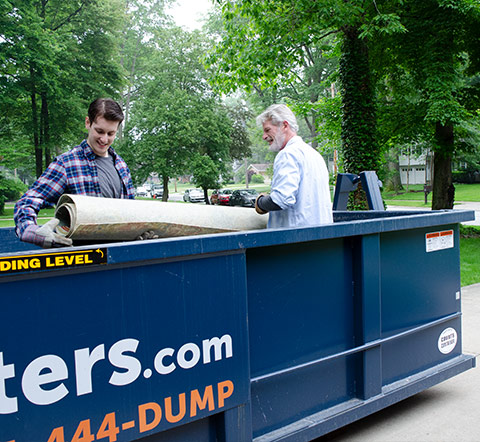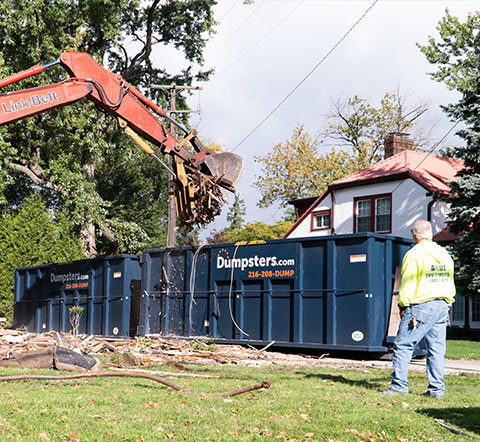 Dumpsters for Big Jobs
Get a larger roll off dumpster to clean up big messes efficiently. From decluttering large spaces to large-scale demolition, these bins make waste removal easy.
Common Projects for 30 Yard Dumpsters:
Estate cleanouts
Home additions
Landscaping an apartment complex
Common Projects for 40 Yard Dumpsters:
Warehouse cleanouts
Complete home renovations
Demolition waste removal
Look for Trash Containers Near You
Commercial Waste Dumpster Sizes
Front Load Container Size Chart
Whether you run a small coffee shop or manage a large warehouse, choose a commercial dumpster size to keep your operations running smoothly. Supplement your trash bin size with regularly scheduled garbage pickups to stay on top of your waste stream.
Typical Commercial Dumpster Sizes
*Size options and dimensions vary by market, but volume is consistent. Our most common dumpster sizes are listed above.
Dumpster Sizes for Smaller Operations
Does your office have less than 20 employees or are you looking for a dumpster that's easy to move around? Keep trash out of site with one of our smaller front loads.
Choose a 2 or 4 Yard Bin For:
Tight spaces, like alleyways.
Maneuverability with wheels on most smaller bins.
Small eateries, offices and businesses.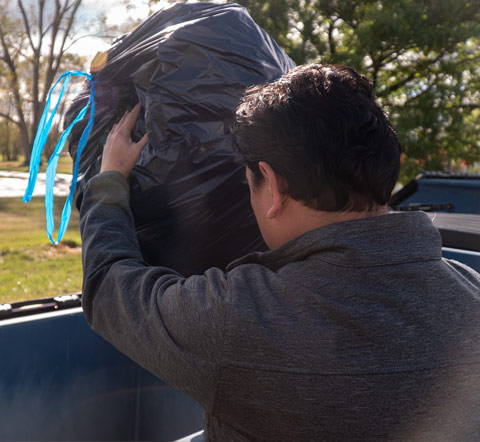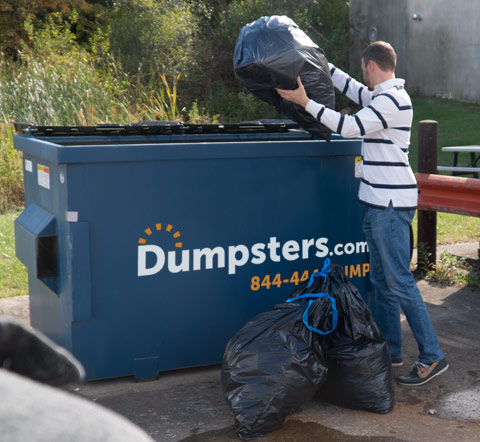 Large Waste Containers for Big Operations
If you have a lot of trash to keep up with, rent one of our bigger dumpsters to ensure your property stays clean.
Choose a 6 or 8 Yard Bin For:
Properties with a lot of space.
Large amounts of trash.
Big offices, grocery stores and warehouses.
Benefits of Working With Us
One Point of Contact
Your account manager will keep track of debris removal from multiple locations and make changes as needed.
Straightforward Pricing
Our all-inclusive prices and easy-to-read invoices make it easy to budget for trash removal.
Guaranteed Service
With an expansive network of hauling partners, we're able to get you the dumpster sizes you need when you need them.
Get the Right Dumpster Size to Avoid Common Fees
Tell Us What You're Tossing
Some dumpsters can only accept specific material types. For example, heavy debris containers only accept materials like concrete while bulky items like furniture aren't allowed in front load bins. We'll go over prohibited items with you when you set up your rental, but you can always give us a call with questions.