Roll Off Dumpster Rental Prices
Find dumpster services in your area

How Much Does it Cost to Rent a Roll Off Dumpster?
The average cost of a dumpster rental is $458.66 nationwide, but keep in mind that exact pricing varies by location, dumpster size and debris type. The price ranges below will give you an idea of what you can expect to pay for your roll off dumpster rental. To get an exact rate, please give us a quick call. We'll give you an all-inclusive quote in minutes.
Pricing varies by location. Enter your city or zip for local dumpster rental information:
Last Updated: October 2020
Are you a business or contractor that needs dumpsters often?
We can provide a single point of contact at no additional cost to help you coordinate rentals anywhere in the country via phone, text or email.
Call 877-778-8440 to partner with us.
How Our Upfront Pricing Saves You More
We bundle the costs of your roll off dumpster into one straightforward rate that combines delivery, pickup, taxes, disposal fees and a generous weight allowance. This way, you can budget for your project confidently.
When comparing dumpster rental prices and sizes, you might find that other providers' cover smaller weight limits for the same size container, or do not include all of the costs associated with their service with your initial quote. With us, your invoice is the price you pay - it's that easy.
1. Location
Local dumpster rental prices depend on fuel costs, local disposal fees and even regional regulations about sorting and recycling in a given area. For example, container rentals on the East Coast or West Coast may be more expensive than in the Midwest, and a debris box in a big city may cost more than in a smaller town.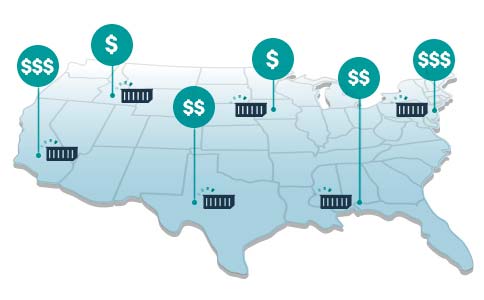 Find Dumpster Prices Near You
2. Debris Type
Local disposal costs for household items, construction materials, yard waste and heavy debris vary based on the availability of landfills and other processing facilities. We'll make sure you're aware of local regulations, recycling options and prohibited items.
Here are our most common temporary dumpster categories and types of materials we generally accept:
3. Weight of Materials and Dumpster Size
Landfill tipping fees are primarily based on the total tonnage of your material: the heavier the dumpster, the more it costs to dispose of the contents. Think about the total weight of your debris when deciding which container size to order.
Try our weight calculators to find the tonnage you need.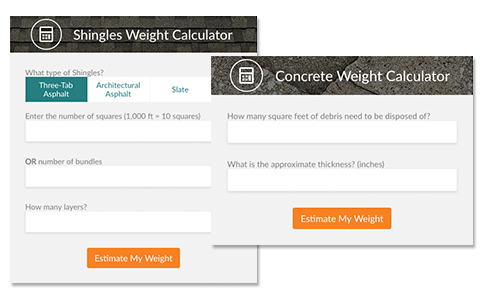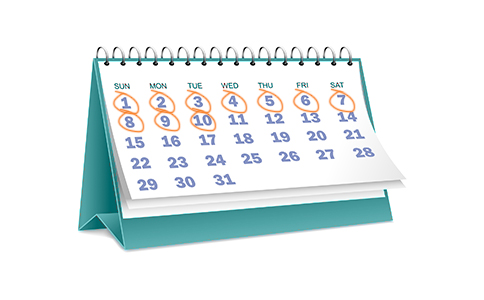 4. Rental Period
The length of time you keep a temporary dumpster on site is also factored into the cost. Standard rental periods are generally 7-10 days, but if you need to hang on to it longer that may impact the final price of your container. If you're planning a long-term project, please ask about our ongoing roll off rental services when you call.
Can Anything Else Affect the Cost of a Dumpster Rental?
There are a few scenarios that can result in an additional fee. To avoid surprises, our team will fully review the terms and conditions in your rental agreement to help you understand these charges and how you can avoid them.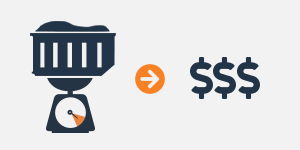 Exceeding Your Weight Limit
Going over the weight allowance included with your dumpster rental may result in an overage fee from the landfill.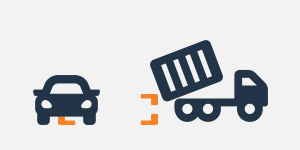 Missing Delivery or Pickup
We charge a trip fee if drivers cannot complete service due to obstacles, so be sure to prepare for delivery and pickup.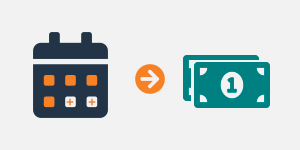 Extending Your Rental Period
If you need more time to finish your project, we're flexible – we can usually extend your rental for a low daily rate.
1. What are roll off dumpsters?
A roll off dumpster is a large, open-top container that is used to haul household junk, remodeling debris and other waste to local landfills or sorting facilities. Homeowners and contractors frequently rent debris boxes as a convenient disposal option.
2. How much does it cost to rent a dumpster for a day?
Whether you need the container for one day or a week, you'll get a price that includes a flexible rental period so you can clean up on your schedule at a straightforward cost. Our 20 yard is the most popular and averages $432.07.
3. How much is a small dumpster?
A 10 yard dumpster is our smallest option in most markets and the nationwide average cost is $366.50. Most markets also offer a 15 yard size, which costs $418.54 on average.
4. How much does a large dumpster cost?
The price of a 40 yard dumpster averages $571.76. This is often the biggest size available.