15 Yard Roll Off Dumpster Rental
Find dumpster services in your area

About Our 15 Yard Containers
If you're working on a smaller project like a bathroom remodel or garage cleanout or need to throw away specific materials like shingles, concrete or dirt, a 15 yard roll off dumpster makes waste removal easy. Give us a call and talk to our team to learn more about this container and get a free quote.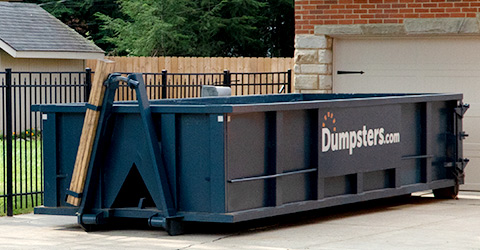 Find 15 Yard Prices Near You
15 Yard Dumpster Dimensions
How big is a 15 yard dumpster? The dimensions traditionally measure 16 feet long, 7.5 feet wide and 4.5 feet high. It holds up to 15 cubic yards of debris, which is about 70-90 13-gallon trash bags.
Cost of a 15 Yard Dumpster
How much does a 15 yard container cost? The average national price is $418.54, ranging from $279-$587, depending on your location and the type of debris you're throwing away. When you call for a quote with us, your all-inclusive 15 yard dumpster price will cover delivery, pickup, taxes, disposal costs and a weight limit.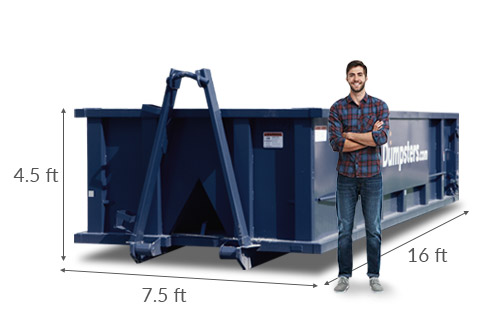 Weight Limit Included in Our Price
A 15 yard dumpster usually holds 2-3 tons, or 4,000-6,000 pounds. Disposal costs for this amount of debris are generally included in our flat rate price. Keep in mind that the weight of your junk adds up fast. For example, the average toilet weighs about 100 pounds, so be conscious of heavy debris.
Is a 15 Yard Container Right for Your Project?
Construction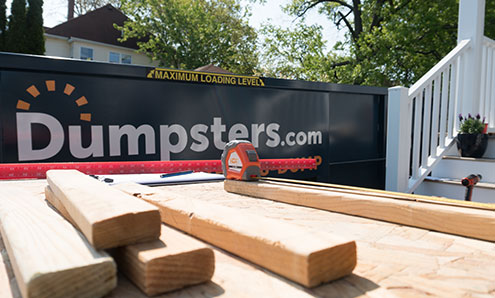 Contractors, homeowners and remodeling companies use our 15 yard roll off dumpsters to remove debris from renovation projects like:
Remodeling a laundry room.
Installing new kitchen cabinets.
Removing walls, flooring and carpet.
Construction dumpsters take a range of remodeling materials, including:
Wood
Carpet
Flooring
Plaster & Drywall
Cabinetry & Countertops
---
Typical Weight Capacity: 2-3 tons
Home Cleanouts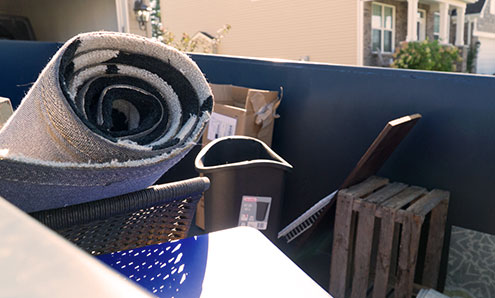 If you're cleaning out a home or a large room, a 15 yard bin is great for:
Cleaning out a basement.
Removing junk from a garage.
Decluttering bedrooms and an attic.
These containers accept a variety of items from home cleanouts, including:
---
Typical Weight Capacity: 2-3 tons
Outdoor Projects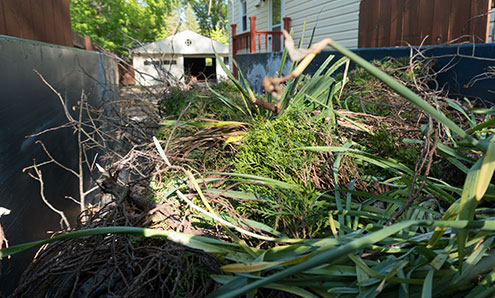 Whether you're repairing a sidewalk or removing yard waste, a 15 yard container can handle a variety of outdoor projects like:
Removing old shingles.
Breaking up a paver patio.
Clearing debris from a yard cleanup.
Heavy debris is accepted in these bins, including the following waste types:
Brick
Block
Asphalt
Concrete
Yard waste
---
Typical Weight Capacity: 10 tons
Please note that covered weight limits and accepted items may vary by location.
More Container Sizes
If you're not sure a 15 yard roll off dumpster is the best choice for your job, check out our other size options. Our team can help you choose a container based on the scope of your project or try our weight calculators to estimate the correct fit for your debris.
Please note that you will be charged for each additional ton over the weight capacity.
Size
Information
10 Yard Dumpster
Dimensions: 14 feet x 7.5 feet x 3.5 feet
Covered Weight Limit: 2 - 3 tons
20 Yard Dumpster
Dimensions: 22 feet x 7.5 feet x 4.5 feet
Covered Weight Limit: 3 tons
30 Yard Dumpster
Dimensions: 22 feet x 7.5 feet x 6 feet
Covered Weight Limit: 3.5 – 5 tons
40 Yard Dumpster
Dimensions: 22 feet x 7.5 feet x 8 feet
Covered Weight Limit: 5 - 6 tons
Plan for Delivery and Pickup
When you set up a 15 yard dumpster rental, we'll ask for detailed delivery instructions so we can place the container in a convenient location for you, even if you can't be there. To ensure a smooth drop off and pickup, stick to the following guidelines.
Pick a Location:
Clear about 60 feet of space for the delivery truck. If you plan to place the dumpster in the street, you may need to get a permit first.
Remove Obstacles:
The truck needs at least 23 feet of vertical clearance to unload and remove the container. Also, make sure there are no locked gates, cars or other obstacles blocking the area.
Don't Overload It:
Make sure not to overfill the container. If debris is sticking out the top of the roll off, it cannot safely be transported to the landfill and you will be charged a fee.
Schedule Pickup:
Don't forget to contact our team before the end of your rental period to request a pickup on or before the last day of your term to avoid additional fees.