10 Yard Roll Off Dumpster Rental
Find dumpster services in your area

About Our 10 Yard Containers
When you're working on a small-scale project that leaves too much debris for the curb or need a place to throw away heavy materials like concrete, a 10 yard dumpster is a great option for waste removal. Check out the video to learn more, then give us a call to talk to our team and get a quick quote.
See 10 Yard Prices Near You
10 Yard Dumpster Dimensions
Exactly how big is a 10 yard dumpster? The typical measurements are 14 feet long, 7.5 feet wide and 3.5 feet high. It can hold up to 10 cubic yards of debris in volume, which is about 50-60 13-gallon trash bags.
Price of a 10 Yard Dumpster
The average national cost to rent a 10 yard dumpster is $366.50, ranging from $268 to $492. Our rates are all-inclusive, covering delivery, pickup, taxes and disposal with a generous weight limit. But keep in mind that prices vary depending on your location and the type of debris you're throwing out.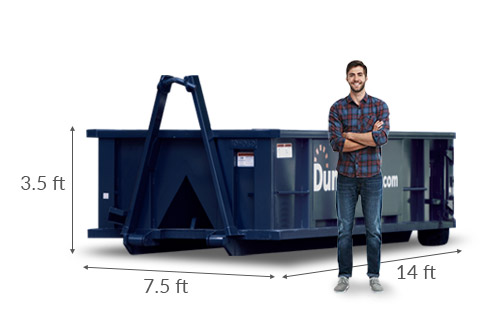 Weight Limit Included in Our Rate
A 10 yard container typically holds about 2-3 tons, or 4,000-6,000 pounds. Disposal costs for this weight limit are part of our flat rates. Keep in mind, a kitchen sink can weigh between 50-100 pounds, so be aware that the weight of your debris adds up fast.
Is a 10 Cubic Yard Dumpster Right for Your Project?
Remodeling & Construction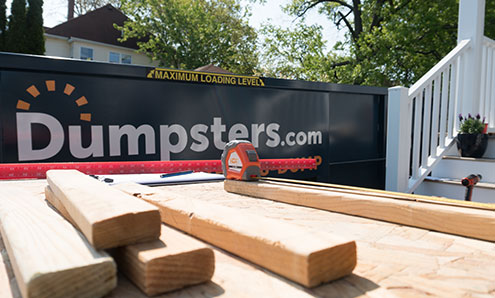 Homeowners and contractors often use 10 yard dumpsters to manage debris from small home renovation projects like:
Removing a wall.
Remodeling a half bathroom.
Installing new kitchen countertops.
Removing flooring from a living room.
We accept a variety of remodeling debris, including:
Drywall
Flooring
Plaster
Countertops
Cabinets
---
Typical Covered Weight Limit: 2-3 tons
Cleanouts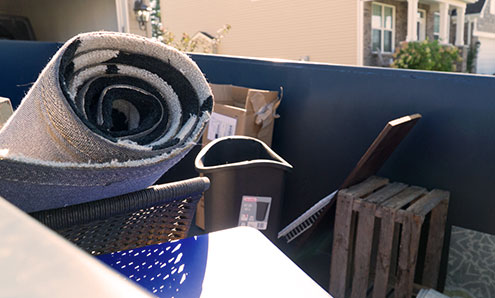 If you need to declutter a room in your home, a 10 yard bin is great for:
Cleaning out an attic.
Decluttering a basement.
Removing junk from a one car garage.
Our 10 yard dumpsters can handle a range of items from cleanouts, including:
General Trash
Furniture
Electronics
Appliances
---
Typical Covered Weight Limit: 2-3 tons
Outdoor Projects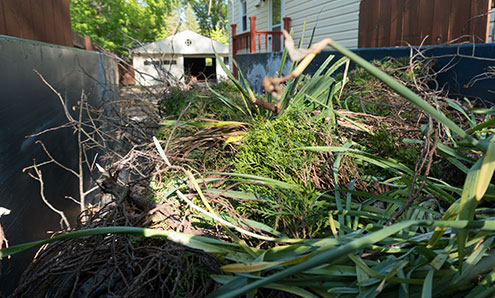 Whether you're dealing with yard waste or removing concrete, a 10 yard container can handle these outdoor projects:
Removing a brick patio.
Trimming trees or shrubs.
Repairing a section of a driveway.
Removing general landscaping debris.
Many types of heavy debris can be thrown into our dumpsters, including:
Concrete
Asphalt
Brick
Stumps
Dirt
General Yard Waste
---
Typical Covered Weight Limit: 10 tons
Please note that covered weight limits and accepted items may vary by location.
Other Container Sizes
If you don't think a 10 yard roll off dumpster is the best fit for your project, we have other size options. Use our weight calculator to estimate how much debris you have, or just give us a call. Our team is trained to help you choose the best dumpster size based on your project.
Please note that if your debris exceeds the covered weight limit, there is a pro-rated charge for each extra ton.
Size
Information
15 Yard Dumpster
Dimensions: 16 feet x 7.5 feet x 4.5 feet
Weight Limit: 2 - 3 tons
20 Yard Dumpster
Dimensions: 22 feet x 7.5 feet x 4.5 feet
Weight Limit: 3 tons
30 Yard Dumpster
Dimensions: 22 feet x 7.5 feet x 6 feet
Weight Limit: 3.5 - 5 tons
40 Yard Dumpster
Dimensions: 22 feet x 7.5 feet x 8 feet
Weight Limit: 5 - 6 tons
How to Prep for Delivery and Pickup
When ordering a 10 yard dumpster, keep in mind that you will need to provide placement instructions for the driver. No one needs to be onsite when the container is dropped off or picked up, but remember the following guidelines:
Select a Location:
Clear a spot where you'd like your dumpster placed. Remember that you'll need a permit from the city to have the bin placed on the street.
Remove Obstacles:
The truck requires about 60 feet of space to approach and about 23 feet of vertical clearance to raise and place the dumpster.
Avoid Overloading Your Bin:
If we come pick up your container and debris is sticking out of the sides, we won't be able to safely haul it away, resulting in a fee.
Call for Removal:
Don't forget to call to schedule pickup for your dumpster on or before the last day of your rental period.