20 Yard Roll Off Dumpster Rental
Find dumpster services in your area

Learn About Our 20 Yard Containers
The 20 yard dumpster is our most popular roll off size because it suits a variety of projects, including room remodels, home cleanouts and large landscaping jobs. Check out the video for more information, or call us to speak with one of our team members and order your 20 yard roll off container.
Find 20 Yard Dumpster Prices Near You
20 Yard Dumpster Dimensions
Just how big is a 20 yard container? The typical dimensions are 22 feet long, 7.5 feet wide and 4.5 feet high. It can hold up to 20 cubic yards of material, which is equal to about 120 13-gallon trash bags.
Price of a 20 Yard Dumpster Rental
How much does a 20 yard cost? The average national cost for a 20 yard dumpster is $432.07, but prices can range from $287 to $625. Our all-inclusive rates include delivery, pickup, taxes, disposal and a specified weight limit. Keep in mind that the exact dumpster price will depend on your area and the type of debris you're tossing in the container.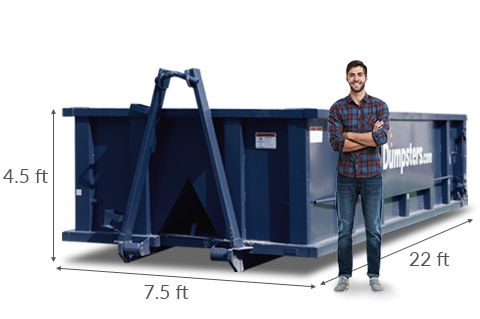 Weight Capacity Covered in Our Rate
A 20 yard dumpster typically holds 2-3 tons, or 4,000-6,000 pounds. Our team will explain the weight capacity included with your 20 yard dumpster price over the phone when you order. Give us a call if you have any questions during your rental
Disposal costs for the container's weight limit are included in our flat rate price. As a point of reference, a ceramic bathroom sink and toilet weigh about 200 pounds combined, so be aware of how quickly the weight of your debris can add up.
Is a 20 Yard Container Right for Your Project?
Remodeling & Construction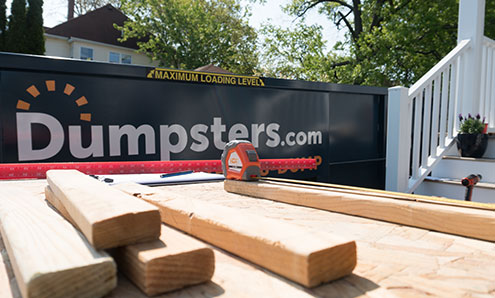 DIYers, homeowners and contractors use 20 yard roll off dumpsters for jobs such as:
Completing a roof tear-off.
Remodeling a small kitchen.
Renovating a master bathroom.
Removing walls, flooring and carpet.
We accept a range of construction debris, including:
Wood
Plaster
Drywall
Cabinetry
Countertops
Flooring and carpet
---
Typical Covered Weight Capacity: 2-3 tons
Cleanouts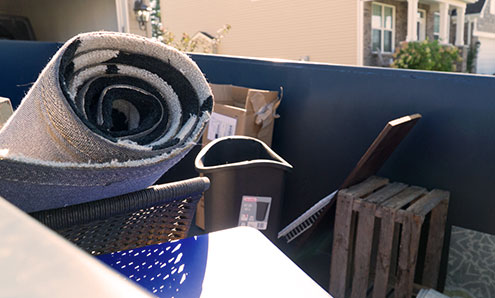 Homeowners and professional organizers often require a 20 yard dumpster to manage debris from projects like:
Cleaning out the garage.
Downsizing before a move.
Decluttering an attic and basement.
These containers can accept a variety of items from junk removal jobs, including:
Furniture
Appliances
Electronics
General trash
---
Typical Covered Weight Capacity: 2-3 tons
Heavy Debris Jobs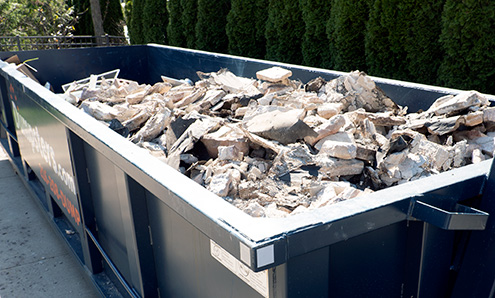 Landscaping companies and homeowners rent 20 yard containers for a range of outdoor projects, including:
Removing trees.
Large yard cleanups.
Removing a brick or concrete path.
Repairing a driveway and sidewalk.
Many types of heavy debris can be thrown into our roll offs, including:
Brick
Block
Stumps
Asphalt
Concrete
Yard waste
---
Typical Covered Weight Capacity: 10 tons
Please note that weight capacities and accepted items may vary by location.
Other Size Options
If you don't think a 20 yard roll off dumpster suits your project, we have other container sizes to choose from. Use our dumpster weight calculators to estimate how much debris you have and find the right bin for the job. Our expert team can also help you choose the best container for your materials.
Please note that if your debris exceeds the weight capacity, there is a pro-rated charge for each extra ton.
Size
Information
10 Yard Dumpster
Dimensions: 14 feet x 7.5 feet x 3.5 feet
Covered Weight Limit: 2 - 3 tons
15 Yard Dumpster
Dimensions: 14 feet x 8 feet x 4 feet
Covered Weight Limit: 2 - 3 tons
30 Yard Dumpster
Dimensions: 20 feet x 8 feet x 5.25 feet
Covered Weight Limit: 3.5 – 5 tons
40 Yard Dumpster
Dimensions: 20 feet x 8 feet x 7 feet
Covered Weight Limit: 5 - 6 tons
Prepare for Delivery and Pickup
When you call to order a dumpster, we ask for detailed placement instructions so we can drop off the container in a convenient location. To make the process go smoothly, and so you don't have to be present for delivery or pickup, complete the following tasks:
Pick a Spot:
Select a location for your dumpster. Remember that you'll need a permit from the city to have the container placed on the street.
Clear the Area:
The truck will need about 60 feet of space to approach and 23 feet of vertical clearance to raise and place the bin.
Avoid Overflowing Debris:
An overloaded dumpster is a safety hazard, so make sure all of your materials are inside, or you'll be charged a fee. If it's more than 10 tons, we can't haul it away.
Schedule Pickup:
Don't forget to schedule a pickup for your dumpster on or before the last day of your rental period.