Rent a 4 Yard Dumpster Today
Find dumpster services in your area

How Big Is a 4 Yard Dumpster?
The average 4 yard dumpster dimensions are 6 feet long, 3 feet wide and 4 feet high. These bins hold 4 cubic yards of trash, which is about 48 kitchen-size garbage bags.
What's the Weight Limit?
A 4 yard bin typically has an 800 pound weight limit. Disposal costs for this amount of trash are covered by our flat rate price. Keep in mind that the weight of your debris can add up faster than you realize. Discuss your trash output with our team to make sure you've got the right size for your business.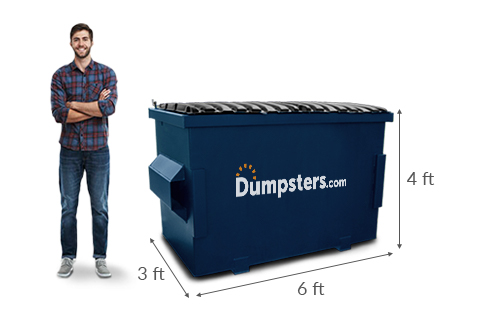 What's the Price of a 4 Yard Dumpster?
The cost of a 4 yard dumpster rental depends on the location of your business, how frequently your bin is emptied, local disposal fees, taxes and any add-ons you choose. The price of a 4 yard container from Dumpsters.com is an all-inclusive rate based on all those factors, so you'll know exactly what to expect on your bill each month.
Is a 4 Cubic Yard Dumpster Right for Your Business?
A 4 yard dumpster rental is ideal for organizations that produce a relatively small amount of common garbage, but not a lot of bulky items. This trash container can be delivered to both parking lots and alleys thanks to its compact dimensions, making it a smart choice for businesses with limited space. We recommend a 4 yard dumpster for organizations like:
Small Businesses:
Convenience stores, boutiques, mid-size offices
Restaurants:
Serving up to 325 customers a day
Rental Properties:
With less than eight units
Warehouses:
Under 5,000 square feet
Not Sure a 4 Yard Dumpster Works for You?
A 4 yard waste bin is a good choice for small to mid-size businesses, but we also offer a range of other commercial dumpster sizes. Keep in mind that you can rent multiple dumpsters in different sizes to meet your business's needs. If you're not sure which container to choose, give our team a call. We can help you make the best call for your situation. And don't worry about your needs changing. You can call us to swap in a new container size or switch to a different pickup schedule at any time.
Size
Information
2 Cubic Yards
Dimensions: 6 feet x 3 feet x 3 feet
Typical Covered Weight Limit: 400 pounds
6 Cubic Yards
Dimensions: 5 feet x 6 feet x 6 feet
Typical Covered: Weight Limit: 1,200 pounds
8 Cubic Yards
Dimensions: 6 feet x 6 feet x 7 feet
Typical Covered Weight Limit: 1,600 pounds
4 Yard Dumpster Rental Details
Pickup Options
Our team will help you decide how often your dumpster should be emptied and you can change your pickup frequency at any time.
---
Pickup Options Are:
Weekly, Bi-weekly or Monthly
Contract Length
With a shorter contract for your 4 yard trash dumpster, you get more flexibility to move or expand than with the usual 3 - 5 year agreements.
---
Our Contract Length:
12 Months
Add-Ons
Wheels let you easily move your container if needed and a lock bar keeps others' trash out. Add these features for a monthly fee.
---
Add-Ons Include:
Wheels and Lock Bars
A 4 yard waste bin can hold a wide variety of general trash. But there are additional fees for disposing of prohibited items in your container. Please call our team with any questions about what can and can't be placed in your 4 yard dumpster.
Need to Clean Up After a Major Project?
If you're planning a temporary project like a remodel or switching to new office furniture. Contact us for a temporary roll off dumpster. These rentals handle the bulky materials from one-time junk removal and renovation projects that can't be placed in your regular trash.
Learn More About Our 4 Cubic Yard Dumpsters
If you need a place to toss garbage from your business, our 4 yard trash dumpsters give you the space you need to throw away trash. They also come with a tailored pickup schedule so you don't have to worry about waste removal. For information on creating a waste management plan and finding space for your front load bin, check out our recent blog posts: